GetYerGoat™ has lead the industry for Goat Lovers Christmas products for 14 years. Come and see what we have – and if you have a suggestion Please feel free to send a request using the email link in our shop.
 Goat Xmas Gift Wrap Supplies – Baby Goat Kisses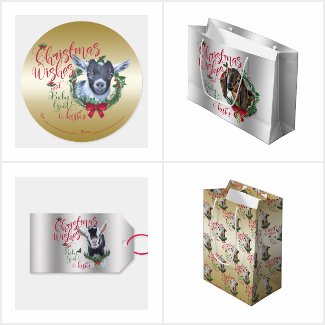 Mix and Match Christmas Gift Wrap, Gift tags, Gift bags, Gift Stickers, and Tissue paper – All Adorable Baby Goat Portraits – Angora, Boer, LaMancha, Nubian , Pygmy and Toggenburg with Christmas greenery, holly and berries, a red bow and mistletoe – with ornate calligraphy text that reads: Christmas Wishes and Baby Goat Kisses all on a gold or silver background – remove background to reveal white or choose any color background you like from the customize color picker – Perfect for the goat lover in the family – won't they be surprised to see a unique Original Christmas goat on their Christmas package Christmas morning.
Another ©goatlady GetYerGoat™ original.
Lots of Holiday Goats wearing caps and scarves and even a Santa hat , jingle bells , candy canes, Christmas candy, Christmas trees and a red barn all mixed up for a festive Goat Holiday Goodies for your gift giving this Christmas. Spruce up your gift giving this Holiday Season with Christmas GOATS! ©goatlady GetYerGoat.com – a GetYerGoat™ Exclusive A MUST have for the goat lover you know and love. Offering this awesome Christmas goat design on Goat lovers Christmas tree skirts, Christmas Goat wrapping paper and matching tissue paper and gift tags, Goat lovers Christmas gift bags, Goat Christmas stockings, Goat lovers mugs, Christmas goat totes, Christmas goat pet bowls, Goat lovers fabric and Christmas goat lovers decor pillows and more. This is the year of the Christmas Goat for your holiday pleasure. Enjoy!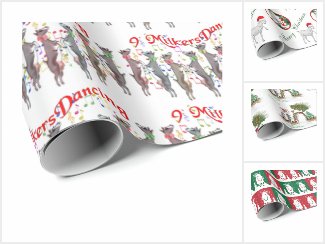 Goat Christmas Wrapping paper for all goat lovers- We have many adorable goat designs  just in time for your Christmas gift wrapping! Make Christmas this year a goaty Christmas!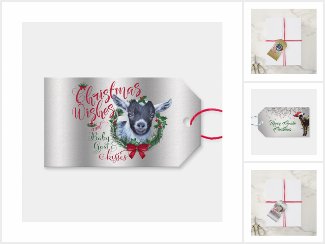 Goat Lovers Christmas  Gift Tags
Make your Christmas gift extra special with one of these adorable goat Christmas Gift tags – created especially for goat lovers by © goatlady GetYerGoat™ Don't forget to follow us on Facebook https://www.facebook.com/GetYerGoat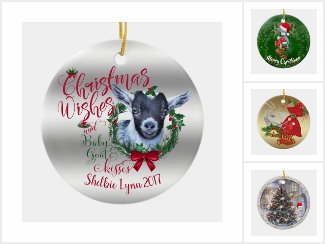 Best Selling Goat Christmas Ornaments
Christmas tree ornaments for goat lovers, a breed for every goat lover. Decorate your Christmas tree with goat Christmas ornaments, give as a gift, tie on to a special package for the favorite goat lady or goat dad in the family – Great for 4H goat kids too!
Goat Lovers Christmas Stockings
A variety of great Goat Lovers Christmas stockings for the ultimate little goat who gets to have his or her stocking on the mantle, or for the eccentric goat lover (like me) –
All original designs by © goatlady GetYerGoat™